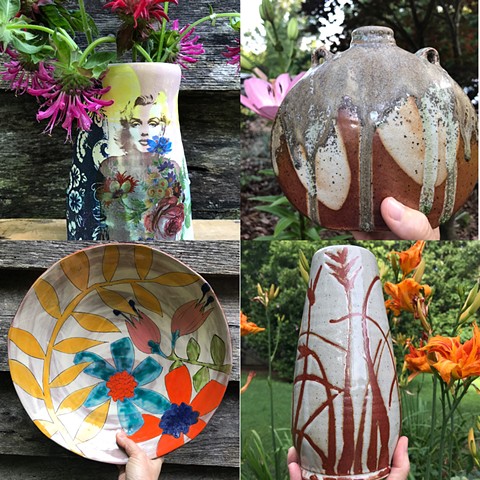 Jeff Dean and Stephanie Nicole Martin are studio potters living in Seagrove, N.C.
Jeff received a B.F.A. in Ceramic Design from East Carolina University. He makes pots that embody a strong sense of form. The forms generally come from something that he has seen in nature. Historical ceramics, architectural landscapes and oddly enough metal sculpture, jewelry, glass, and paintings seem to run through his mind whenever he is creating. Jeff always tries to balance form, function, and design into a cohesive grouping that will be pleasing to the owner. Most of his work is fired in a gas fired kiln to cone 10. He uses light colored stoneware clay, as well as local stoneware clay and porcelain to make the work.


Stephanie Nicole attended the University of North Carolina in Greensboro, and received a Bachelor of Fine Arts in Design with a concentration in Ceramics. She works primarily with earthenware… making hand-built and wheel-thrown objects using color, pattern, floral, and figurative imagery to evoke a feeling of nostalgia.
She utilizes many printmaking techniques to build the surfaces of her vessels. Digital technology plays an important role in her process – making her own iron decals, and transferring them onto the clay. Watching her grandmother sew her dresses, and quilt as a young child influenced her sense of craft and design. Most of the images she uses are rooted in 1960's and 70's pop-culture. Her work continually intertwines history and memory, and perpetuates her nostalgia of being a young girl growing up in the rural foothills on western North Carolina in the 1970's.